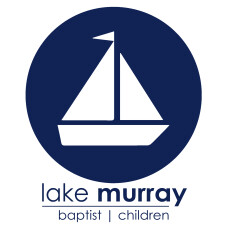 LAKE MURRAY CHILDREN'S MINISTRY EXISTS TO EQUIP PARENTS AND CHILDREN TO GROW TOGETHER IN THE HOPE OF THE GOSPEL OF JESUS CHRIST.
Our ministry is designed to love, serve and teach children from birth to 6th grade while also equipping parents to disciple their children. We believe the primary environment where a child learns to follow Jesus is in the home, and it is our desire to support parents as they pursue this biblical model of disciple-making. At Lake Murray Baptist Church, we expect our children to learn in a safe, engaging, and Gospel-centered environment.
Safe

: All volunteers are appropriately screened via background and reference checks before joining our Children's Ministry Team. Team members ensure proper check-in and check-out procedures for all children. Health and safety policies are consistently implemented throughout the children's building.


Engaging

: We want our children to feel motivated to learn more about Jesus through curriculum that is developmentally appropriate and varied in approach to help meet different learning styles. Our teachers should be enthusiastic in presenting the Gospel each week so that children can better absorb the truths of the Bible.


Gospel-centered

: We believe in teaching children the "big picture" of the Bible, showing how each individual story points to our need for Christ and His glorious promise of redemption for all who believe in His saving work on the cross. Our curriculum moves chronologically through the Bible in order to give children a comprehensive understanding of God's great rescue plan for His people, beginning with creation and ending with His second coming.
For more information about Lake Murray Children's Ministry see our Parent Guide.