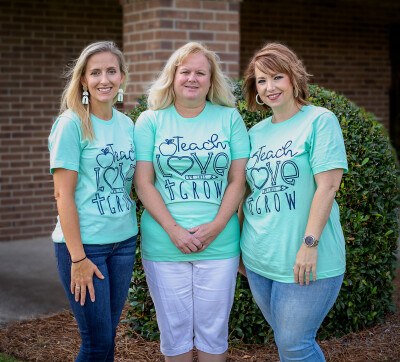 Mrs. Meredith, Mrs. Wendy, and Mrs. Deanna


Meredith Yarborough - Director
Meredith Yarborough grew up in Chester, SC. She has been in public education for the past 12 years as a fifth-grade teacher, assistant principal, and student intern supervisor at the University of South Carolina. She is so excited to be joining the Lake Murray Baptist Kindergarten family and looks forward to serving!
Meredith and her husband, Brooks, were married in 2005 and have 3 children, Michael Mae, Anna and West. They have lived in Lexington since 2008 and are members of Lexington Baptist Church. Meredith loves spending time with her family, meeting with her small group for Bible study, exercising, and being outside
Deanna Brogden - Assistant Director
Wendy Isgett - Financial Assistant
Wendy grew up in Darlington, SC and moved to Columbia to attend the University of South Carolina. She graduated in 1995 with a Bachelor's Degree in Accounting and obtained her CPA license in 1999. Wendy married her high school sweetheart, Robbie, and they now have two sons: Dylan and Clayton.